Calling X-Athletes 30-50 years old...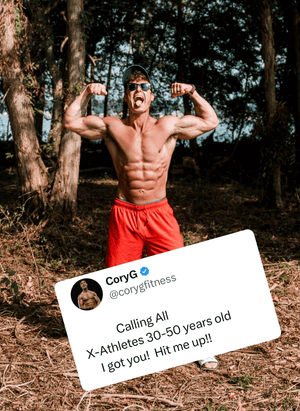 DISCLAIMER:
I'm 45 years old. This picture? My results WITHOUT using any PEDs or TRT.
I'm a lifetime drug-free athlete. How I look and how I feel is a direct result of how I eat, train, and take supplements.
I used to play basketball back in high school, but I wasn't D1-caliber and didn't get recruited to play anywhere. Odds are, you're a much better athlete than me!
But one thing I did very well since my sophomore year of high school was that I didn't miss workouts.

I haven't missed more than a week of workouts since 1995 (sophomore year).

After I high school graduation, I worked as an underground coal miner to save money so I could start my education & business as a trainer.

That was in 1998-1999... Now in 2023 - almost 2024 - I'm still here helping people all over the world get better.
My nutrition & training plans resonate with X-Athletes. I know because I see it every day. That same athlete is still inside of you, even though it's been dormant for awhile.
Let me help you bring that back out again.
Everyone's busy - I get it. I'm a husband, dad of 3, and a multi-business entrepreneur. I know and understand what it means to be busy.
How do you combat the business? By having a successful system.

That's what I've been testing and experimenting with since 1995. That system is what is going to help you get back on track to help you feel more like the old you.